Tulsa Hyundai loves the springtime with blooming flowers, thunderstorms, and Teacher of the Year announcements. This year, Tulsa Hyundai gifted the 2019 Bixby Teacher of the Year with a brand new 2019 Hyundai Elantra. It's also our honor to gift the 2019 March Teacher of the Month with $250 in prizes.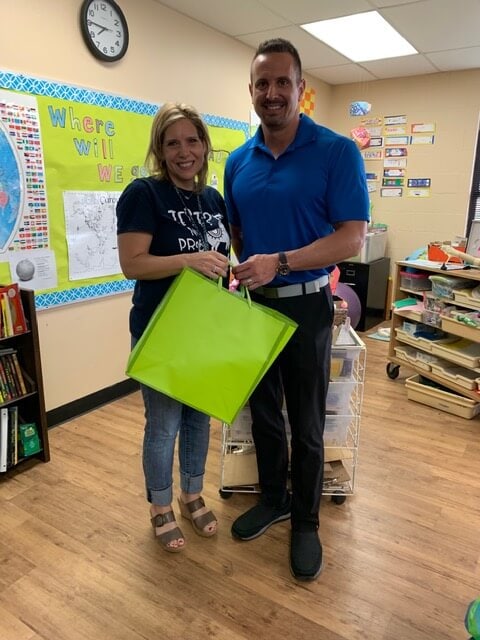 The March Educator of the Month is Ms. Sherry Frable. Ms. Frable teaches about 145 2nd and 3rd grade gifted and talented children at Bixby North and Bixby Central. She has taught gifted students for 11 years after a small stint in the business world early on in her career.
"My oldest child was in the gifted and talented program at Bixby so when the position opened the year I completed my certification, I applied," said Ms. Frable. "I wanted to have a small part in the children's lives that I hoped would make a positive difference and would instill a love for learning."
Ms. Frable hopes to see her students make a difference in their local Tulsa community because she loves Bixby Public Schools and the families. While Tulsa Hyundai, your regional Hyundai dealer, is excited to provide Ms. Frable with school supplies, we wish we could help her with the larger request of smaller class sizes so that teachers could focus more on individual students.
This is Ms. Frable's third Teacher of the Month award and first from Tulsa Hyundai.
Ms. Frable hopes Tulsa Hyundai's gift can help with the annual presentation projects the gifted and talented students produce at the end of each year for their families and friends.
Second graders make rainforests with construction paper, recycled paper towel rolls, pipe cleaners, and more to create layers of the rain forest. They are currently making animals they are studying out of clay and will be creating artifacts that support their learning of the animal they are studying.

Third graders have made artifacts based on the history of a country they are studying, flags from the country they have researched and saltwater dough maps of the major landforms. My classroom is a hands-on, project-based classroom so any extra can help the purchase the supplies needed to build and create.
"Thank you to Hyundai for honoring teachers and districts," said Ms. Frable. "I stress to students that education is power. Power to make a difference not only in their lives but in others as well."
Tulsa Hyundai strongly supports Ms. Frables mission to make learning fun and rewarding. Congratulations, Ms. Frable!